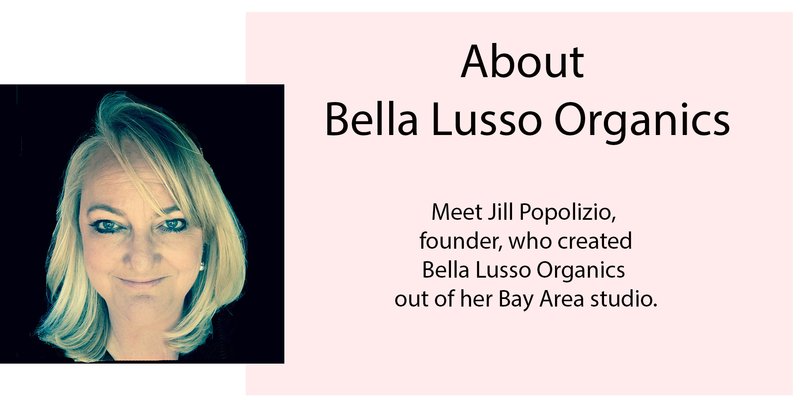 Bella Lusso Organics is a luxury bath and body line hand-crafted with care in the Bay Area. I believe that essential oils can be powerful and that true and authentic beauty naturally unfolds from pure formulas and high-quality, effective ingredients.
We began in 2015, after I was diagnosed with cancer and began my own experimentation into natural (and organic, if possible) remedies. Allergic to fragrance, I was introduced to pure essential oils and the benefits of Aromatherapy.
Aromatherapy is defined as 'the art and science of utilizing naturally extracted aromatic essences from plants to balance, harmonize and promote the health of body, mind and spirit'.

And so began my journey of creating therapeutic products through pure essential oil and oil blends. Depending on the symptom I was addressing, I researched the variety of benefits of each oil (for example: lavender is known to have healing properties for relaxation and sleep).
I began to learn how what we put on our body is just as impactful to our health and well-being as what we put in our body. Many over the counter products contain synthetic ingredients, parabens, phthalates, chemicals, fillers... the list goes on. They also do product testing on animals :( A big NO in my book - all my creations are tested on family and friends.
Through this, our trademark line of Scent Therapy for well-being was created:
~ the use of therapeutic-grade essential oils, blended with natural ingredients
to balance,harmonize and promote the health of
body, mind and spirit ~
(more about that here)

Our small batches are created to address four key areas of well-being – to help you sleep, to uplift your mood, to boost energy, and to calm and balance.
Enjoy!
Jill Popolizio
Creator and Founder